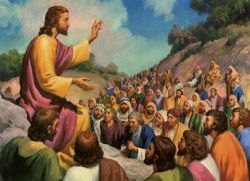 "We Will Do Everything That the Lord Has Told Us."
... [I]n forming their consciences the faithful must pay careful
attention to the sacred and certain teaching of the Church. For the
Catholic Church is by the will of Christ the teacher of truth. It is her
duty to proclaim and teach with authority the truth which is Christ and,
at the same time, to declare and confirm by her authority the principles
of the moral order which spring from human nature itself. In addition,
Christians should approach those who are outside wisely, "in the holy
Spirit, genuine love, truthful speech" (2 Cor. 6:6-7), and should strive,
even to the shedding of their blood, to spread the light of life with
confidence and apostolic courage.
The disciple has a grave obligation to Christ, his Master, to grow
daily in his knowledge of the truth he has received from him, to be
faithful in announcing it and vigorous in defending it without having
recourse to methods which are contrary to the spirit of the Gospel. At
the same time the love of Christ urges him to treat with love, prudence
and patience those who are in error or ignorance with regard to the
faith. He must take into account his duties towards Christ, the life-giving
Word whom he must proclaim, the rights of the human person and the
measure of grace which God has given to each man through Christ in
calling him freely to accept and profess the faith.
-- Vatican Council II
Declaration on Religious Liberty
(Dignitatis Humanae) #14
Soul of Christ, sanctify me.
Body of Christ, heal me.
Blood of Christ, drench me.
Water from the side of Christ, wash me.
Passion of Christ, strengthen me.
Good Jesus, hear me.
In your wounds shelter me.
From turning away keep me.
From the evil one protect me.
At the hour of my death call me.
Into your presence lead me,
to praise you with all your saints
for ever and ever. Amen.